Home Machinists (Seamstresses): Untold stories of first-generation Bangladeshi women in the East End (1970-90)
I SEWED, I SEWED AND I SEWED
The untold stories of Bangladeshi seamstresses and their contributions and sacrifices.
By Stepney Community Trust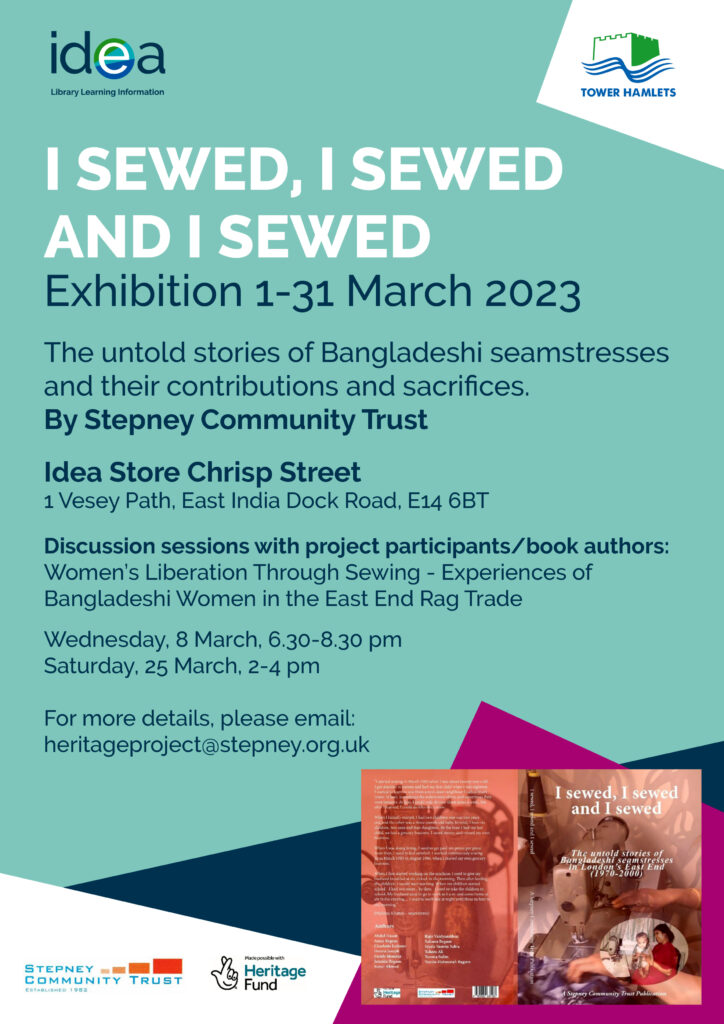 Idea Store Chrisp Street, 1 Vesey Path, East India Dock Road, E14 6BT
Exhibition 1-31 March 2023
Discussion sessions with project participants/book authors:
Women's Liberation Through Sewing – Experiences of Bangladeshi Women in the East End Rag Trade
Wednesday, 8 March, 6.30-8.30 pm
Saturday, 25 March, 2-4 pm
For more details, please email: [email protected]
Presentations and interactive discussions with Jubaida Begum, Tasmia Salim, Syeda Tasmia Tahia, Raju Vaidyanatha, Tahera Ali and Dona Joseph.
I Sewed, I Sewed and I Sewed: The untold stories of Bangladeshi seamstresses in London's East End (1970-2000) – An exhibition by Stepney Community Trust, 20 October 2022, 35-47 Bethnal Green Rd, London E1 6LA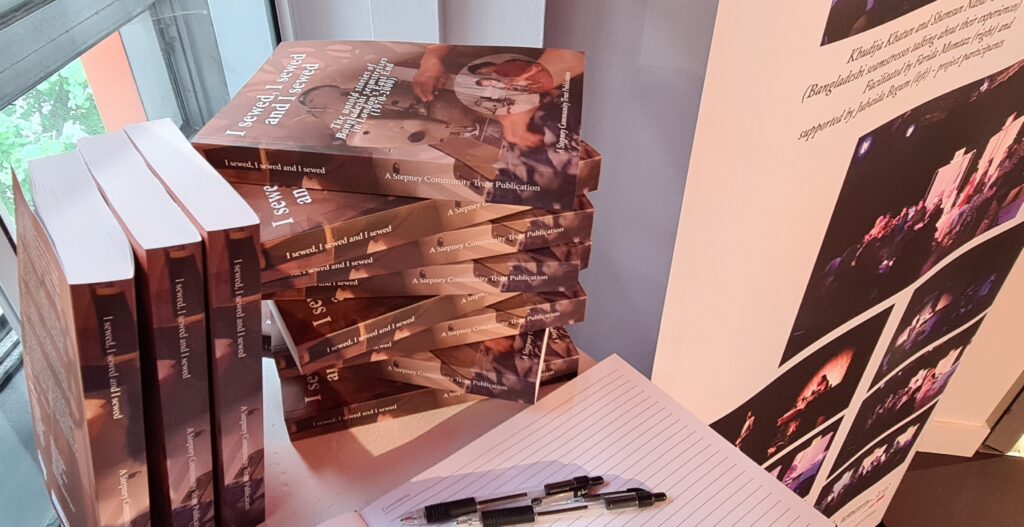 The exhibition is based on the work of thirteen community participants who undertook research, conducted interviews and authored the book 'I sewed, I sewed and I sewed'. The book contains the stories of more than twenty Bangladeshi women migrants who came to the UK mainly from around 1970 to 2000 and made the East End their home. It includes details of their journeys, the context of the time, and the struggles they endured and overcame in a new, strange place.
Only a few people know the economic role played by Bangladeshi women in maintaining their families and putting bread (rice and curry) on the table and the sacrifices they made in the process. They were invisible as they worked from home due to a combination of reasons – cultural and religious, lack of language and employment skills and the fear and danger of racial violence that existed all around. They were also unsung heroes. Becoming visible was a complicated matter for them, if not impossible.
A project by Stepney Community Trust, supported by the National Lottery Heritage Fund, Project completion celebration on 23 May 2022 at Rich Mix Centre
All our heritage projects received funding from National Lottery Heritage Fund. We also received in-kind support from many institutions, and they are mentioned with details of the projects.

@HeritageFundUK, #HeritageFund, #NationalLottery. The project 'made possible with The National Lottery Heritage Fund, with thanks to National Lottery players.'